MARKETING ACTIVITIES
Major marketing activities for the Thailand Yacht Show 2016 included:
Signage in key locations around Phuket
Bangkok-based PR agency focusing on national-level campaigns, including national press conferences
Core marketing team working with international media to target the yachting industry, as well as wealthy individuals, boating enthusiasts and lifestyle seekers from across Asia
Strategic print and digital advertising campaigns
Cross promotion with luxury and yachting media partners Combined marketing efforts through partners and associations Visitor Invitations circulated to 5-star luxury hotels and inserted in media partner publications
Social media advertising campaign and targeted content diffusion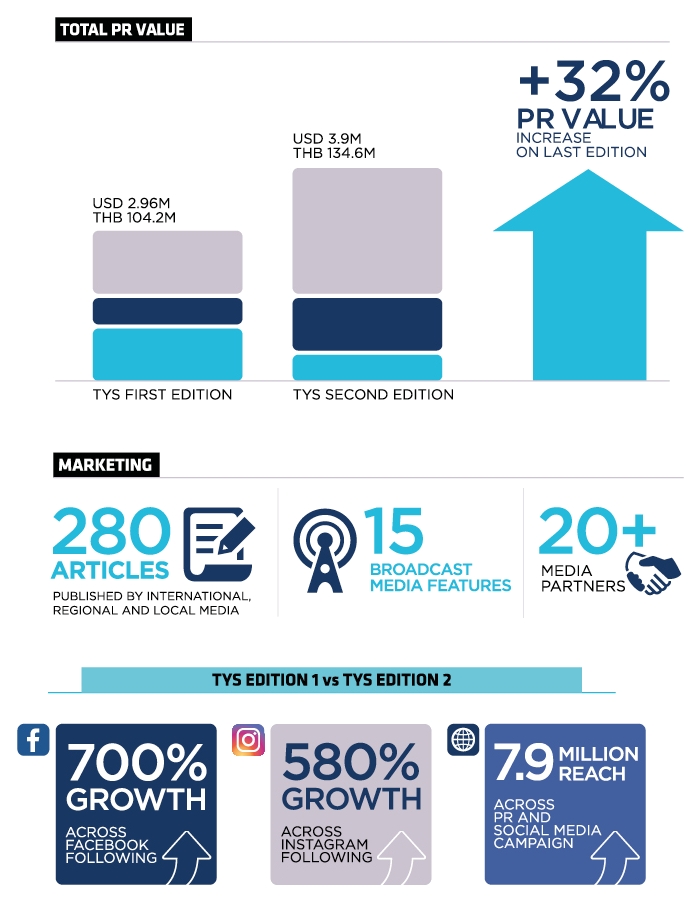 PR
The PR campaign will feature:
Media engagement and editorial in major daily business publications and monthly luxury magazines
Features on the yachting lifestyle and debuts at the show
Online campaign of advertising, editorial, blogging and social media
Creating partnerships with networks of UHNWIs and HNWIs
The event will be covered by international and local news channels, ensuring wide coverage both during and after the Show
The Thailand Yacht Show 2018 will link with business radio stations in a radio campaign designed to reach the local target audience
MEDIA PARTERS – 2016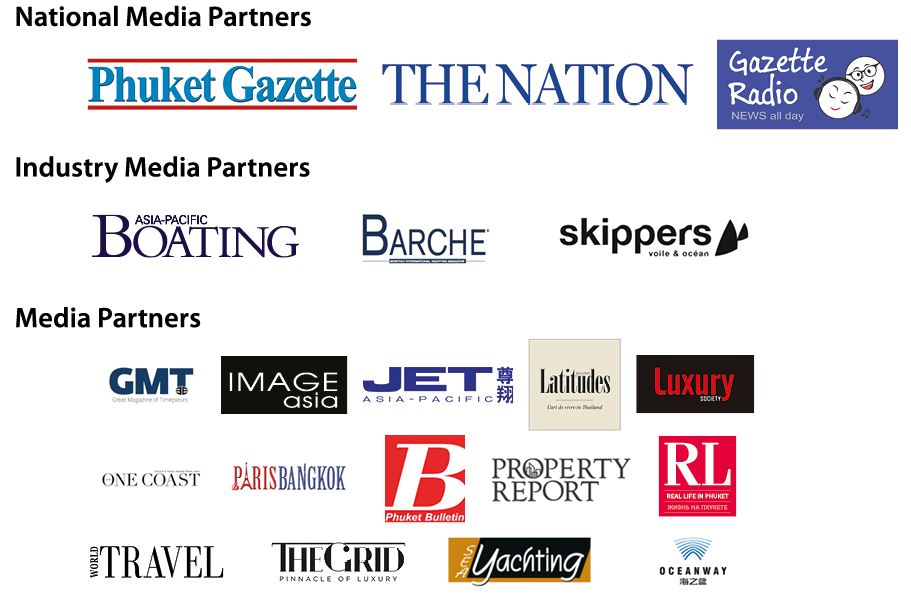 PRINT ADVERTISING
A media-wide advertising campaign will begin months before the show, focusing on key professionals from the industry, news, lifestyle and business publications enhanced with editorial content.
ONLINE ADVERTISING
The Thailand Yacht Show 2018's marketing team will work closely with leading international industry web portals to reach subscribers and visitors through web advertising and targeted email campaigns.
PREVIEW MAGAZINE
The Thailand Yacht Show 2018's exclusive preview magazine focuses on the latest exhibitor news, targeted interviews and yachts on display at the show. Approximately one month before the Show, the magazine is distributed to a major database of UHNWI and HNWI readers throughout the Asia Pacific region and mailed to a selected group of VIPs.
INVITATIONS
The Thailand Yacht Show 2018 is an exclusive event. Invitations and personalised access passes will be mailed to qualified VIP guests internationally and regionally, as well as being distributed to Sponsors, Exhibitors and Media Partners.
SOCIAL MEDIA
Communications activities across multiple social media platforms such as Facebook, Twitter, LinkedIn and Instagram reinforce the Show and its partners' exposure.
HOSPITALITY
The Thailand Yacht Show 2018 offers fantastic opportunities to entertain customers, clients and executives at one of the world's most beautiful marinas. The show has a plethora of official parties, as well as opportunities to entertain in the show bars and restaurants. Yachts are always available for special exclusive entertainment.
EXPERIENTIAL MARKETING
The second edition of the Thailand Yacht Show in December 2016 attracted 4,700 visitors to meet some 75 exhibiting brands and view 55 boats and yachts in the marina.