ULTRA HIGH NET WORTH INDIVIDUALS
The story of the next decade in wealth will most definitely include Indonesia, Thailand, Malaysia and the Philippines – all are populous, have considerable inward investment, and are improving infrastructure. By 2040, Asia will be home to more than 165,000 UHNWIs.
'Decade of Wealth', Wealth-X, 2015.
LUXURY GOODS MARKET IN ASIA
Asia is the world's largest and fastest growing market for the consumption of luxury products.
The global luxury brand market is approximately US$80 billion, of which Asia has the largest market share at 37%, followed by Europe at 35%, the US 24%, and the rest of the world at 4%.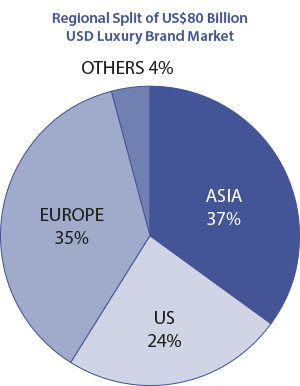 Source: The Asia Wealth Report